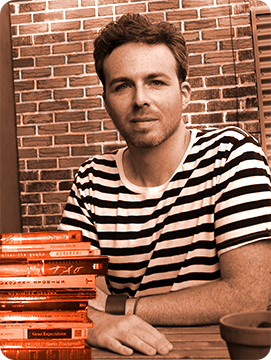 As a writer, I tend to read a lot. The following is a list of my all-time favorite books,
in no particular order:
An Inquiry Into the Origin of Hens – Lao Tse
When the War Was Good – E. Hemingway
Hypochondriacs Live Longer – David Sedaris
Finnegan's Wake and Bake – James Jones
Rich and Strange: The Biography of Howard Hughes – Anonymous
The Candy Licker – Schler Muhammed Rasool
The Candy Licker's Daughter – Schler Muhammed Rasool
The Candy Licker's Time Traveling Wife – Schler Muhammed Rasool
The Candy Licker's Da Vinci Code… 'In Bed' – Schler Muhammed Rasool
Turning the Mind into an Alley – L. Rinpoche
Flaunt Your Buddhism, Girl!: A Girl's Guide to Being a Single Buddhist in the Big City –
SJ Parker
Sexual Aberrations of the Criminal Female – Marnie Connery, Ph.D
Iraq: What the Hell is Happening? – Cornell West
Iraq: What the Hell Happened? – Cornell West
My Caucasian – Andre Dubus III
Nothing's Illuminated, Bitch – Harold Bloom
The Fifty Best of Everything Ever and Why: From Aardvark to Dyspepsia – Harold Bloom
Priapism Among the Haystacks – TS Lawrence
The Complete Geological Surveys of Andrei Tarkovsky 1952 –58 (Schocken Classics Series)
How Much Protein Does a Man Need? – Leo Tolstoy
How Not to Look Fat – Danica Lo
Who's Your Fishmonger? – Niles Crane
Little Dieter Don't Diet – Gunter Grass
Billary Slams Obamanation on the Obanomy & Other Flip–flops – JT Plouffe
You CAN Take It With You: I Took My Money Beyond the Grave and So Can You – Trask Carnegie
My Itamae: A Story of A Boy & His Imaginary Sushi Chef – Ozu Murakami
My Life As Art – Andy Warhol
My Life As Art – Art Garfunkel
My Life in Art – Paul Simon
Good at Life: The Story of Barack Obama – Charlie Kaufmann
Indestructible Teeth: The Living Spirituality of Orthodontist Richard Shenkman –
Richard Shenkman, DMD
The Auras of Seals – JZ Coetzee
Cheese is the New Meat – Baron von Vanderkrass
"Hi baby girl. You are a precious treasure!" – Sunflower Concepcion
Electric Renaissance (In My Pants) – Medici Da Vinci
The Land Surveys of Henry David Thoreau 1851 –62 (Unabridged version, 2400 pp): Schocken Classics Series
Reading the Script: the Collected Prescriptions of William Carlos Williams, Organized by Drug Name (Schlocken Klassics, 4500 pp) – Professor Philip Windfcuker [submitted by M. Shadwell]
Suffocation – Knut Hamsun
The Hills of Tora Bora – Ernest Hemingway
Deep Shit: Philosophy and the Art of Sanitation – Charles Friedrich Pirsig
War and the Metamorphosis of the Idiot – Franz Tolstoevsky
The Tough Tears Series: Cry Tough, Sob Tough, Weep Tough, Wail Tough
For Colored Girls/ When they go over the rainbow/ and get the blues – by Cholo (author of The Vagina Decologues, House of Freedom, &  O Cry, O Solitude!)
For Colored Girls/ When the Rainbow is More than Enuff/ But they Can't Figure Out How to eat Flan – Cholo
The Bedbugs of Shannara – Terrence Gilliam
The Uneditable – Samuel Beckett
The Coconut Shuckers – Jeb Steinbeck
The 101 Best Recipes For Preparing Bedbugs – Shel Rombauer & Bob Dylan (aka, Jack Frost) 
Krapp's First Tape – Samuel Beckett
Cooking Without Looking: Harnessing the Power of the Force to Prepare the Finest Culinary Delights – Leia Childs
The Best American Poetry of 2011 (or, Some of the Worst Poetry of All Time) – eds. Philip Windfcuker & Rebecca Socialclimer
No Entrance: Race Relations in 1960s Mississippi – John Paul Sartre
The Analytics – Google
Man's Search for Herring – Wheelis Frankl
America's 50 Best States – Roscoe Wilderness
Chinchillas in the Mist – Everett Goodall
History— Whose Fault Is It? (Yahweh Press) – Jason Bentsman
The Collected Texts, SMS Messages, and Tweets of Alexander Pushkin  
French Grammar The Hard Way – Language Learning for Sadomasochists Series (Boot to the Groin Press)
Are Snakes Necessary? – Bismark von Preminger
That Side of Paradise – Francis Fitzcarraldo
Love in the Time of BLAH – Gabrielle Garcia Copeland
The Wisdom of the East (of Harlem) – Flyguy Slade
The Divided MILF – JT Lancaster, Sex Therapist
Humid, All Too Humid – Allen Nietzsche
The James Brown Bible (JBB) (Def Jam Publishing)
The definitive translation of the Christian Bible as told by the Godfather of Soul
Treating Feline Psychogenic Alopecia (FPA) – Sheldon Alverschwartz, PCP
The Complete Dungeons & Dragons Compendium To Spirituality – Ken Wilber
Healing at the Edge of Calm – Himhart Holibrook
No Alain Delon: The Life of Jason Bentsman (Scribners)
Biography explaining how I'm inferior to Alain Delon in virtually every way. (IE: 'JB was born in Minsk, Belarus. Of course, at that time, and still today, Minsk is a backwater compared to Lyon, the vibrant, bustling, and cultural mecca that gave birth to Alain Delon— thespian, artist, philosopher, lover, humanitarian extraordinaire.')
When To Start Twerking: A Primer – Milarepa Cyrus
Dealing With Excitable Pigs – Grandor Amberson
The Way of All Floozies – Depardieu Butler
What Plants Talk About When They Talk About Running – Flystrap Harukami
The Way We Are: Poems April 3, 2003 – April 4, 2003 (3rd Edition)
Meditation for Sleazy People – Guruji Michael Powers
Life With Limits: How To Be Given Every Advantage and Still Fail Miserably – Charles Cameron Baliol, Esq.
Nietzsche's Mustache: An Autobiography – Nietzsche's Mustache
Mariposa: The Pink Butterfly (Take Me To Paradise) – Anonymous
Parks Without Bathrooms – Hemingway Chaplin
On Becoming A Pervert – Carl Dodgers
And here are some of my favorite movies…
From the Producers of Girls Gone Wild: Food Gone Bad
Flipper & Lassie: Tag-team Madness
Harold and Kumar No More Go A Roving
Diarrhea of a Country Priest – Robert Bresson
The Troi Colors Trilogy – Kieslowski Kandinsky
I Am Bi-curious, Yellow
I Am Horny, Rouge
I Am Very Hungover, Don't Talk To Me, Puce
Children of the Opposite Sex – Marcel Ophuls
Days of Indigestion – Kar Wong Wei
Chinchillas in the Mist (documentary based on the bestselling book by Everett Goodall)
Last Tango in Boise, Idaho – Wayne Berlescucci
The Leaves Have Ears – Fairbanks Sirk
Whose Pants Are These? (documentary) – Errol Apted
The Red Fire Hydrant (documentary) – Errol Apted
Leonard Cohen: The Non–existent Years
Documentary chronicling the life of Leonard Cohen from the late Middle Ages through the early Renaissance in Western Europe
Deuce Bigalow: Ontological Gigolo
Stalker Nostalgia – Andrey Jerkovsky
And, for good measure, several of my very favorite songs…
Don't Bogart the Pussy – Tone-Déf
I Want to Put My Penis Inside Your Vagina, Woman – Martin Ricky
Wholesome Romance – Lady GooGoo
You Look Just Like My Anima, Baby – Young Adler
I Kissed My Grandma (And I Liked It) – aka, Taste of Geriatric – Katy Perry
Slather It – the new hit single from Devo
Anal Surprise – Miles Davis
My Fin-De-Siècle Mama – Buddy Robespierre
Menstruation Vacation – Kraftwerk
In A Horizontal Way – Davis Coltrane
You Gotta Smoke Somethin' – Bob Dyland
The Best of the Best of the Best of Berlin (aka, Take My Breath Away / Metro)
I Shat My Pants (And I Liked It) – Katy Perry
Shat My Pants Again – Katy Perry
Carefully Planned And Executed Whisper – Michael George